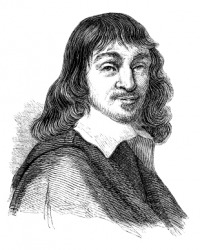 Who said, "I think therefore I am?" The famous French philosopher and mathematician Rene Descartes, also known as the Father of Modern Philosophy, said these words. Much of his work attempted to defy skepticism, a prominent ideology for the French intellectuals of the day. In addition, much of his philosophical thinking lead him to speculate about the connection between the mind and the body, which is where this quote derives.
"I Think Therefore I Am"
Descartes wrote this quote in part IV of his work "Discourse on Method of Rightly Conducting One's Reason and of Seeking the Truth in the Sciences" published in 1637.
But I observed that, while I was thus resolved to feign that everything was false, I who thought must of necessity be somewhat; and remarking this truth--I think, therefore I am--was so firm and so assured that all the most extravagant suppositions of the sceptics [sic] were unable to shake it, I judged that I could unhesitatingly accept it as the first principle of the philosophy I was seeking. I could feign that there was no world, I could not feign that I did not exist.
Throughout "Discourse on Method," Descartes sets up his method of inquiry. In part IV, he then doubts everything he has said and begins by telling his audience that everything he knows is false. By denying everything, he can begin his argument free and clear of prejudice and thus prove his method of inquiry. He then builds his theory beginning with the one thing that he knows to be free of doubt, and that is thought process. Senses can lie or manipulate but to know doubt is to have thoughts and thoughts lead to existence. Who said, "I think therefore I am?" Rene Descartes, born in 1596 and died in 1650, only believed in mathematics and reason. He tried to develop the proper path to deductive reasoning, which he believed was all that stood between him and defeating skepticism. However, he also had to be very careful in his work which closely followed Copernicanism when the Church had recently condemned Galileo for that very belief. Through all of his work and writings, Descartes became one of the most influential philosophers in history.