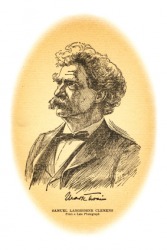 Mark Twain had a lot to say about life, so investigating his various quotations will provide interesting insight.
Mark Twain's Quotes on Life
We will present you with a list of Mark Twain's quotes on life, since he had such a vast array of them. Reflect on each of them and really think about the ones that you like. Quite frequently, quotations have different meanings for different people, which is truly one of the powers of writing.
"A man cannot be comfortable without his own approval."
"A person who won't read has no advantage over one who can't read."
"A person with a new idea is a crank until the idea succeeds."
"Against the assault of laughter nothing can stand."
"Age is an issue of mind over matter. If you don't mind it, it doesn't matter."
"All generalizations are false, including this one."
"Always do right. This will gratify some people and astonish the rest."
"Any emotion, if it is sincere, is involuntary."
"Be careful about reading health books. You may die of a misprint."
"As an example to others, and not that I care for moderation myself, it has always been my rule never to smoke when asleep, and never to refrain from smoking when awake."
"Better to remain silent and be thought a fool than to speak out and remove all doubt."
"Clothes make the man. Naked people have little or no influence on society."
"Denial ain't just a river in Egypt."
"Don't go around saying the world owes you a living. The world owes you nothing. It was here first."
"Don't part with your illusions. When they are gone, you may still exist, but you have ceased to live."
"Don't tell fish stories where the people know you; but particularly, don't tell them where they know the fish."
"Forgiveness is the fragrance that the violet sheds on the heel that has crushed it."
"Giving up smoking is the easiest thing in the world. I know because I've done it thousands of times."
"Good breeding consists in concealing how much we think of ourselves and how little we think of the other person."
"I am an old man and have known a great many troubles, but most of them never happened."
"I have been complimented many times and they always embarrass me; I always feel that they have not said enough."
"If man could be crossed with the cat, it would improve man but deteriorate the cat."
"It ain't what you don't know that gets you into trouble. It's what you know for sure that just ain't so."
"It usually takes me more than three weeks to prepare a good impromptu speech."
"It's not the size of the dog in the fight, it's the size of the fight in the dog."
"Life would be infinitely happier if we could only be born at the age of eighty and gradually approach eighteen."
"Never put off till tomorrow what you can do the day after tomorrow."
Some of these quotations are humorous and some are serious. Some are reflections on Twain's own life and some are reflections of the world that he saw developing all around him.