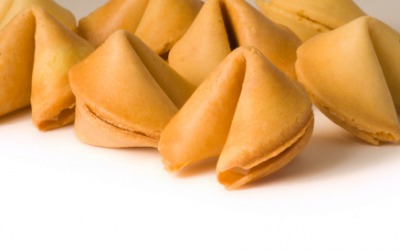 Would you like to know some funny fortune cookie sayings? We are going to learn about fortune cookies and see some interesting fortunes.
Fortune Cookies
Before we look at fortunes, let's learn about how these fortune cookies got started. Fortune cookies are made with sugar, flour, oil, and vanilla. The recipe for fortune cookies is based on a Japanese cracker. They are flat cookies that have a fortune placed in the center, are folded over, and then the ends are brought together.
Fortune cookies were introduced in the first part of the 20th century in the United States. It is interesting to note that they are not found in China, only in Chinese restaurants in the United States. The fortunes are written on a slip of paper and may have words of wisdom, a prophecy, or lucky numbers. Sometimes there is a Chinese phrase and its translation.
Funny Fortune Cookie Sayings
Here are some really funny sayings from fortune cookies:
A closed mouth gathers no feet.
A conclusion is simply the place where you got tired of thinking.
A cynic is only a frustrated optimist.
A fanatic is one who can't change his mind, and won't change the subject.
An alien of some sort will be appearing to you shortly.
Do not mistake temptation for opportunity.
Flattery will go far tonight.
He who laughs at himself never runs out of things to laugh at.
He who laughs last is laughing at you.
He who throws dirt is losing ground.
Some men dream of fortunes, others dream of cookies.
The greatest danger could be your stupidity.
The world may be your oyster, but it doesn't mean you'll get its pearl.
You will be hungry again in one hour.
You can always find happiness at work on Friday.
Confucius say: if you think you're going to sum up your whole life on this little bit of paper, you're crazy.
The following fortunes were actually found in fortune cookies but they are not typical. They are a bit strange, some are typos, but they are still funny fortune cookie sayings:
A starship ride has been promised to you by the galactic wizard.
A tub and a rub will change your day.
Because of your melodic nature, the moonlight never misses an appointment.
Confucius say you have heart as big as Texas.
Don't behave with cold manners.
Don't forget you are always on our minds.
Fortune not found? Abort, Retry, Ignore
Help! I am being held prisoner in a Chinese bakery.
It's about time I got out of that cookie.
Never forget a friend. Especially if he owes you.
Never wear your best pants when you go to fight for freedom.
Only listen to the fortune cookie; disregard all other fortune telling units.
Someone will invite you to a Karaoke party.
Suppose you can get what you want.
That wasn't chicken.
There is no mistake so great as that of being always right.
You love Chinese food.
You will gain admiration from your peers.
You will receive a fortune cookie.
Sayings for Future Fortune Cookies
You would think that they are running out of funny fortune cookie sayings after all these years. In case they are, here are some funny sayings that should be in fortune cookies:
Accept that some days you're the pigeon, and some days you're the statue.
Always keep your words soft and sweet, just in case you have to eat them.
Decide that you want it more than you are afraid of it. - Bill Cosby
Don't fry bacon in the nude.
Don't sweat the petty things and don't pet the sweaty things. - George Carlin
If opportunity doesn't knock, build a door. - Milton Berle
The secret of staying young is to live honestly, eat slowly, and lie about your age. - Lucille Ball
When everything's coming your way, you're in the wrong lane.