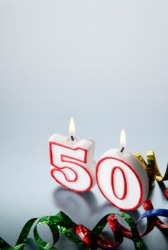 Reaching the half-century mark is a milestone in anyone's life; the best way to keep it from turning into a millstone is to enjoy some funny 50th birthday quotes, for you or a loved one. Well, maybe not so loved, since most the words of wisdom on aging, and on hitting that 50 mark, seem to be wryly anticipating the incipient decrepitude of old age to come. Which is really a shame, since aging is inevitable, and as one sage said, "it sure beats the alternative!" Or as Daniel Francois Espirit Auber put it: "Aging seems to be the only available way to live a long life."
Fibs on Aging
Lady Nancy Astor, born a Virginia southern belle who would marry a landed English lord and become the first woman ever to sit in Parliament, was a well known beauty with a marvelous wit. Her expressions are still repeated to this day.
On aging, Lady Astor was particularly sublime: "I reuse to admit I'm more than fifty-two, even if that does make my sons illegitimate."
Another British lady, Anita Brookner, won plaudits for her novels and her art historian enterprises. In one of Bruckner's books, her narrator makes a dry observation of a female character: "She was a handsome woman of forty-five, and would remain so for many years."
These two ladies provide excellent examples of the sometimes prickly, but truly funny, 50th birthday quotes.
Aging Isn't For Sissies
Actress Bette Davis lived a long and tumultuous life, but she certainly hit a few snags in the road in her later years. She suffered a massive stroke that almost killed her, paralyzed her face, and left her unable to walk and speak only with a distinct slur.
But true to the grit Davis had shown on the silver screen for decades, she forced herself through therapy and managed to stage a comeback even after all the health problems she had been through.
During one of her interviews, Davis was asked what she thought of overcoming her stroke and performing again. Laughing, she put it succinctly: "Aging isn't for sissies!" Davis' words are a prime example of funny 50th birthday quotes that have the virtue of being almost painfully true.
Don't Take Yourself Seriously
Another famous character actress, Marie Dressler, had been down on her luck after a stage career and early success in silent movies. During that time, Dressler had been kind to a young Marion Davies. When Davies soared to popularity, she rescued Dressler from obscurity and brought her in to make talking pictures.
It was a good move. Dressler wowed audiences through a variety of films, and then crowned her achievement with an Academy Award in 1933 at the age of 64. She would unexpectedly die of cancer the following year.
Dressler had some words of wisdom, particularly since she had been so poor, and had had an astonishingly successful comeback after she was 60 years old.
"By the time we have hit fifty, we have learned our hardest lessons. We have found out that only a few things are really important. We have learned to take life seriously, but never ourselves," Dressler said.
Funny 50th Birthday Quotes
Comedienne Joan Rivers, a poster senior citizen for plastic surgery, put it this way: "Looking fifty is great if you're sixty."
A wag who specialized in greeting cards came up with this positive way of reaching the big five-oh: "I'm not fifty. I'm 49.95 plus tax!"
The same joker came up with one of these funny 50th birthday quotes: "Happy 20th anniversary of your 30th birthday!"
Baseball star Mickey Mantle contemplated his senior years with a bit of chagrin. "If I knew I was going to live this long," Mantle said. "I would've taken better care of myself."
"One should never worry about temptation as one ages," one of those famous unsung jokesters said. "It will avoid you!"
Maybe the best way to look upon aging is to see it really doesn't matter. An anonymous pundit had the right idea: "Age doesn't matter, unless you're a cheese!"