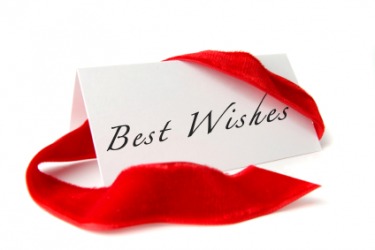 Whether you are looking to congratulate someone on a new job, their retirement or you want to wish the person well as he or she starts college, you may be interested to read some of our best wishes phrases.
Best Wishes Phrases
Collection of Phrases
A lot of these various phrases have multiple uses. Therefore, you can scroll through and see which one fits the function the best, but you may find that a lot of them are suitable for the situation.
Here is a list of some of some favorite best wishes phrases. We hope that you enjoy them and find a use for them!
"Can't think/Brain dumb/Inspiration won't come/Bad ink/Bum pen/Best wishes/Amen!"- Source unknown
"You come to love not by finding a perfect person, but by seeing an imperfect person perfectly." -Sam Keen
"Something old, something new, something borrowed, something blue." -From an Old English rhyme
"Love is composed of a single soul inhabiting two bodies." -Aristotle
"A baby is God's opinion that the world should go on." - Carl Sandburg
"Babies are bits of stardust, blown from the hand of God." -Barretto
"A babe in the house is a well-spring of pleasure, a messenger of peace and love, a resting place for innocence on earth, a link between angels and men." -Martin Fraquhar Tupper
"If you don't like something, change it. If you can't change it, change your attitude." -Maya Angelou
"When it comes to the future, there are three kinds of people: those who let it happen, those who make it happen, and those who wonder what happened." - John M. Richardson
"And in today already walks tomorrow." - Samuel Taylor Coleridge
"The best way to appreciate your job is to imagine yourself without one." - Oscar Wilde
"By working faithfully eight hours a day you may eventually get to be boss and work twelve hours a day." - Robert Frost
"May you get all your wishes but one, so you always have something to strive for." - An Irish blessing
"If things are not as you wish, wish them as they are." - Yiddish Proverb
"You are never given a wish without also being given the power to make it come true. You may have to work for it, however." - Richard Bach
"A wise unselfishness is not a surrender of yourself to the wishes of anyone, but only to the best discoverable course of action." - David Seabury
"Fear not for the future, weep not for the past." - Percy Blythe Shelley
"Go confidently in the direction of your dreams. Live the life you have imagined." - Henry David Thoreau
"The abundant life does not come to those who have had a lot of obstacles removed from their path by others. It develops from within and is rooted in strong mental and moral fiber." -William Mather Lewis
"You can't help getting older, but you don't have to get old." - George Burns
"To accomplish great things, we must not only act, but also dream; not only plan, but also believe." - Anatole France
Creating Your Own Best Wishes Phrases
If you want to wish someone well, you do not have to always borrow a line from another person. You are allowed to create your own too, you know! Think of a saying that really reflects the celebration or occasion (such as a birthday) that you are honoring. Since you are personalizing it, you can really say something that reflects the person and your relationship with that person.